The story of the Hotel Frohe Aussicht
It all started in 1872 …
Five generations built this Hotel with passion and love
Impressions of the past
The hosts who wrote our hotel history
At this point, we would like to give all previous hosts of the "Frohe Aussicht" a little time of honor, combined with the thanks and appreciation of today's host generation.

Anton Albert Rusch

In 1872 Anton Albert Rusch bought the house.
He was from 1889 to 1893 at the same time also owner of the Restaurant on the Säntis.

Albert Rusch-Dörig

In 1898 his son Albert Rusch-Dörig took over the inn.
He opened the guesthouse and the restuarant in June 1900.

Annemarie Rusch

After the early death of Albert Rusch-Dörig, his wife Annemarie continued the business.

Arnold & Mina Rusch-Dörig (with daughter and aunt)

In 1955 son Arnold and his wife Mina Rusch-Dörig took over the guesthouse in the third generation.

Mina & Johann Inauen-Rusch

In 1980 daughter Mina Rusch continued with the business together with her husband Johann Inauen.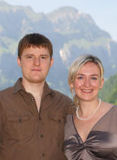 Silvie & Arno Inauen
Since April 2004, Arno Inauen has been operating the Hotel Frohe Aussicht in the fifth generation.
With the marriage in November 2009, the Frohe Aussicht gained with Silvie as a boss a very good soul that works with heart and soul to please theyr guests.
Psst…
By the way: In March 2015, Arno and Silvie Inauen became parents of a wonderful daughter. You may also love the "new energy" of the the Frohe Aussicht during your visit!